Sports Cartoons
The Tennis Clinic and The Golf Coarse feature more than 50 cartoon characters on the court and links. It's all in good fun and they are available for purchase at click on the button below. Or, if you have a favorite sport you'd like to have fun portraying, send me your request. I'll create a painting with a similar comic theme. Great as a gift or for your personal enjoyment.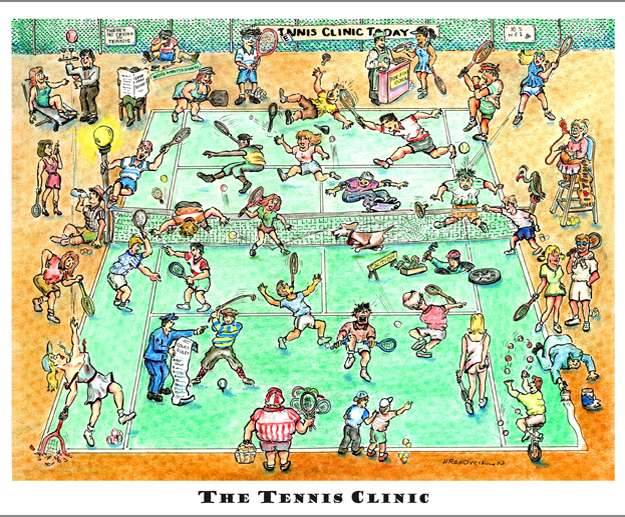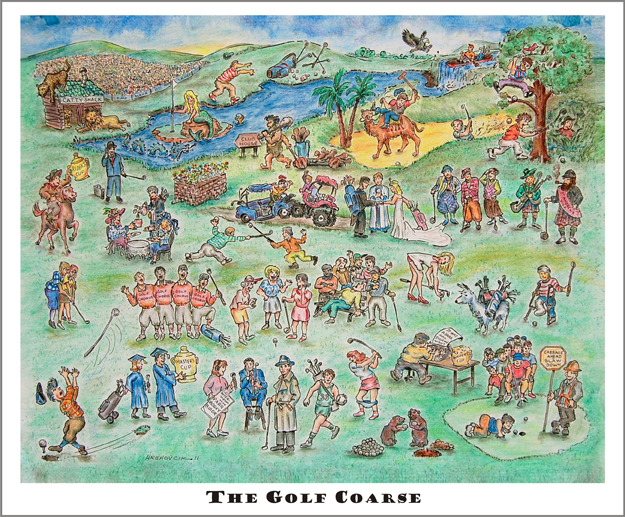 The Tennis Clinic makes a great conversation piece at your club or game room and as a gift for family & friends who love to play tennis. It
features more than 40 caricatures "playing" tennis. 
The Tennis Clinic will generate laughs and giggles as viewers of the color print recognize scenes they've probably witnessed on and around the court.
   …plus a few novel exaggerations.
<a class="et_pb_promo_button et_pb_button" href="http://www.imagekind.com/The-Tennis-Clinic_art?IMID=5ab36c96-2206-4568-968f-13be30f66409" target="_blank">Pricing & Order Information</a>
The Golf Coarse features more than 50 caricatures as they become "one with the ball" and often get teed-off in of great game of golf. Share this riotous look at one of the most popular sports in the world.  
The Golf Coarse will get people laughing as they view the frolicking views of "typical" golfers and scenes around bunkers, sand traps, water obstacles and other familiar golfing experiences presented in an original comic view.
<a class="et_pb_promo_button et_pb_button" href="http://www.imagekind.com/The-Golf-Coarse_art?IMID=9bd8cd9e-4f1e-4214-b02b-18d6ce700ec7" target="_blank">Pricing & Order Information</a>
[JDs_portfolio_category category_id="17"]